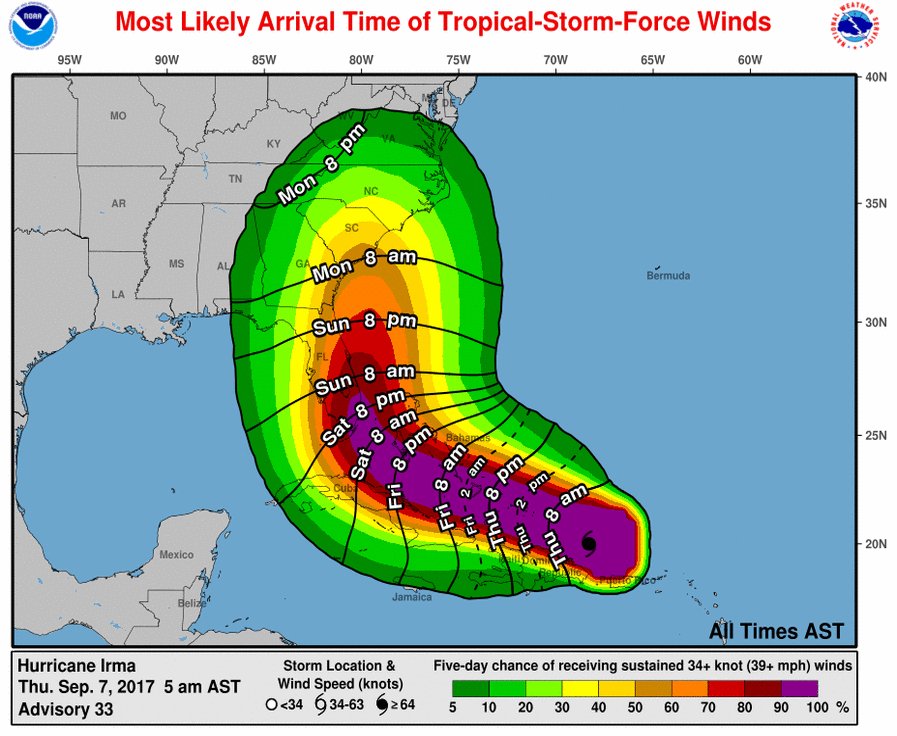 Literature's Irmas are a tough lot.
There's Irma Bunt, who in On Her Majesty's Secret Service tried to kill James Bond by nicking his cheek during a shave with a razor dipped in Japanese puffer fish poison. Bond, of course, shot her.
Everyone remembers Irma Lair as the class clown of the animated series W.I.T.C.H., but she had a destructive superpower: the ability to see visions in, and manipulate water.
Irma Pince, the "underfed vulture" who guarded the Hogwarts library through the entire Harry Potter series, was another tough old bird, so devoted to not lending books that when Dumbledore agreed to make a facsimile of
Quidditch Through The Ages
, she was struck by a sudden paralysis and he had to pry the volume loose from her grip.
So it's no surprise an Irma has forced Rare Book Cafe to evacuate our Saturday time slot. Two of the Cafe team are at ground zero in Miami Beach; three more are weighing options dependent on how bad it looks in their Florida locations.
Irma seems intent on leaving no one out: even co-host Lindsay Thompson- 730 miles north of Miami, is under a state of emergency covering all of North Carolina. 60 mph winds and half a foot of rain is expected Monday or Tuesday.
So it's clear- and easy to figure- that everyone- including half our regular viewership- has got more pressing things to deal with. We plan to return next Saturday, September 16.
Please, everyone, keep our friends in mind.
*****
Rare Book Cafe is streamed by the Florida Antiquarian Book Fair every almost every Saturday from 2.30 to 3.30 pm EDT. We feature interviews, panel discussion and stuff you can learn about book collecting whether you are a regular at Sotheby's or just someone who likes books.
The program airs live on Rare Book Cafe's Facebook page, and remain there after the show.
Hosted by Miami book dealer, appraiser and WDBFRadio.com's Bucks on the Bookshelf radio show creator Steven Eisenstein, the program features a revolving set of cohosts and regular guests including Thorne Donnelley of Liberty Book Store in Palm Beach Gardens, Florida; Lindsay Thompson of Charlotte's Henry Bemis Books; miniature books expert Edie Eisenstein; ephemera expert Kara Accettola; and program creator/producer T. Allan Smith.
We enjoy the support and encouragement of these booksellers: Little Sages Books in Hollywood, Florida; Liberty Books in Palm Beach Gardens; As Time Goes By, in Marion, Alabama; Quill & Brush in Dickerson, Maryland; Lighthouse Books in St. Petersburg; The Ridge Books in Calhoun, Georgia; and Henry Bemis Books in Charlotte.
Rare Book Cafe program encourages viewer participation via its interactive features and video: if you've got an interesting book, join the panel and show it to us! If you'd like to ask the team a question or join us in the virtually live studio audience for the program, write us at rarebookcafe@gmail.com.